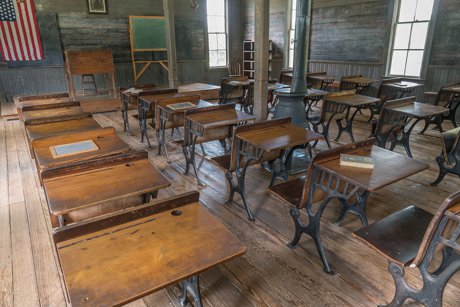 Get to know the lay of the land of Gillette real estate. With doors open Monday through Saturday, the Campbell County Rockpile Museum explores the rich history of the region. Located close to Gillette homes, this venue presents an array of permanent and temporary exhibits as well as hosting special events and educational programs.
Two large buildings and multiple outside structures make up the museum grounds. Exhibits are found in the main building and include the Campbell County Room and Gallery and Kintz Room. An impressive collection of artifacts please those strolling about. Popular pieces include rifles, fossils and Native American items.
Outside the stage is set for times gone by. Patrons journey back in time when taking in the blacksmith area, wagons, train boxcar and caboose. Two rural schoolhouses illustrate a simpler time when all school aged children were educated together. Today's youngsters get a glimpse of what learning was like without the technology and modern amenities they are used to. Kids also have fun in the dress up area putting on costumes reflective to earlier times.
Gillette Residents Plan for Museum Events
Locals come out for special events. The museum calendar is filled with exciting happenings from informative lectures to book sales and fairs. Coffee with the Museum Director is an ongoing event which features stimulating conversation and refreshments. Educational programs are enlightening too for both children and adults. Campbell County elementary school children benefit from the annual World War II and 1890's School Day events.
Trips to the gift shop enable guests to bring a part of the museum home. Found to the right of the entrance the shop holds a unique collection of items sure to bring smiles and stir imaginations. Mineral rocks and arrowheads are great for the rockhounds in the group. Finger puppets and coal candy delight the kid in all of us. Postcards, photographs, books, apparel and more all line the shelves.
While donations are thankfully accepted, the Campbell County Rockpile Museum welcomes folks in with free admission. Stop in soon for a visit and soak up the richness of the history of the Gillette real estate region.